Attention: All addinexpress add-ons work together or individually so they complement each other and give them additional settings. Its main goal is to give the user the expertise to create their own design without the need for programmers. All it takes is a little skill CSS.
Alladdine Extra Menu.
Add-ons to the main menu. Complete list of plugins. Covering all needs.It gives you full control to customize the Main Menu.Produced by: Aladdin Express.
Please see this link:
front end :
Horizontal example
demo.alladdinexpress.info
back end : https://demo.alladdinexpress.info/admin.php
user: demo@demo.alladdinexpress.info
password : 123456789Aa
Vertical example
demo2.alladdinexpress.info
back end : https://demo2.alladdinexpress.info/admin.php
user: demo@demo.alladdinexpress.info
password : 123456789Aa
The following features are available in it:
1- (Ajax-loading for list items) Shorten the loading time of list items List items are not loaded once but only when the cursor is placed on them. It greatly saves the time needed to load a page, especially if you have a large list with lots of items.
2- It allows to create a menu based on the store's product categories or menus (Layout > Menus) which makes the menu look more attractive and usable, and it allows to attach images to the categories.
3 - Slide menu animation.
4- Flexible and adapts to screen size.
5- The possibility of adding banner with an internal or external link or a background to the list of slides.
6- Display the brands associated with the product beautifully.
7- Add labels to the main menu and icons, if (extension mhd_icon-font-cs-cart is available)
8- Customizing the length and height of the list, which increases the flexibility of the nails.
9- Complete customization of the colors of the names of the main and sub-menus.
installation
1- Go to the control panel
2- Then choose Add-ons
3- Manage add-ons
4- Click on the gear button and select Manual installation.
5- In the opened pop-up window select the add-on file, where the required archive is located. Then click Upload & Install.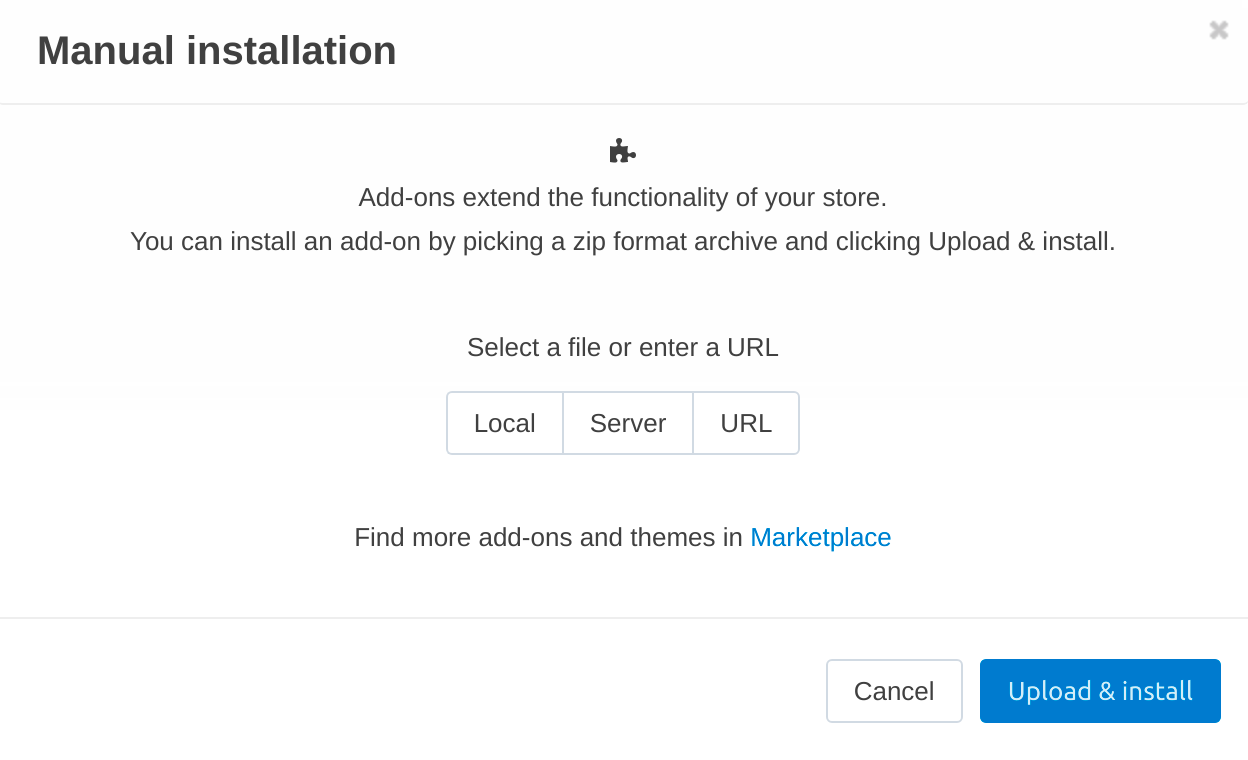 Activation and proof of ownership
After completing the installation process, go to the add-ons Enter the owner's e-mail. save the settings and then activated

Basic settings
1- from control panel Click on the Add-ons -> Alladdinexpress
2- Then choose Extras (MHD: Full Extra Menu).
3- Click on settings

3 B/C-The options (B/C).
work with the vertical menu only. They specify the default menu height and length.
We advise not to change the values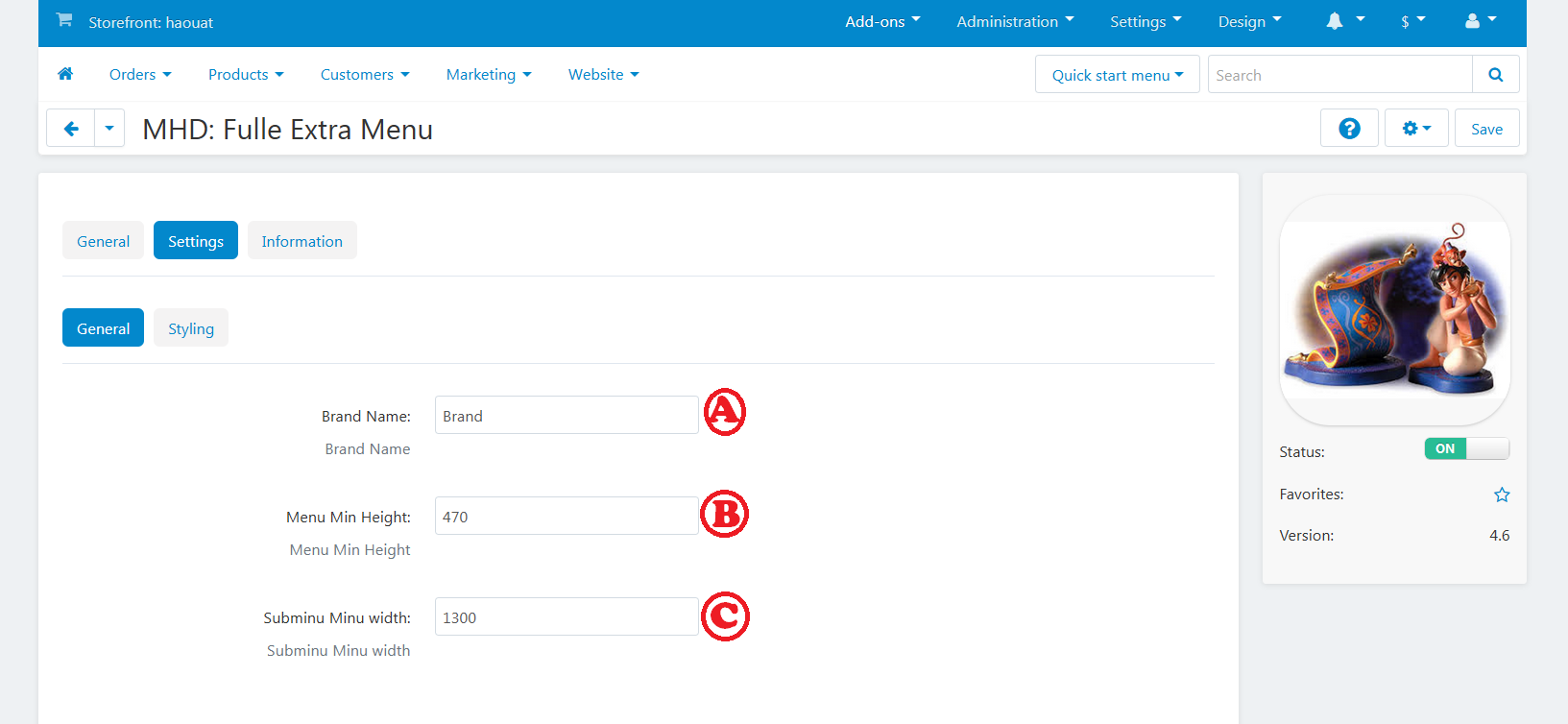 3 A-In the admin panel, go to Products → Features.Then click on the brand you created Copy the brand name and paste it in the option (A)
note: make sure to update the (Variants) tab too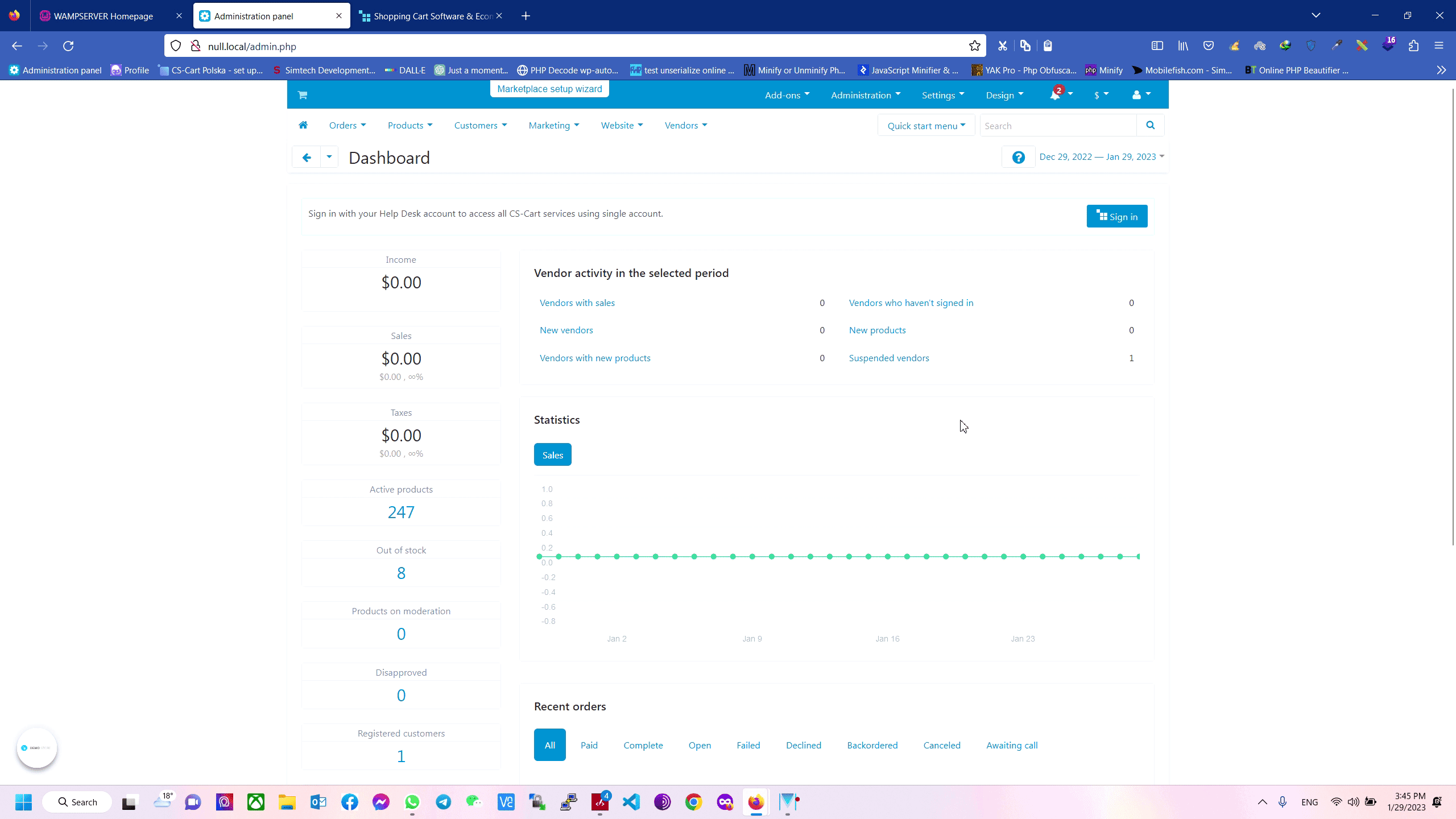 styling
This menu allows you to fully control the color design of the menu, which gives you greater dynamism
A: Dropdown Title Color (for vertical menu)
B: first level link color
C: first level icons color
D: Second level link color
E: Second level first letter link color
F: Third level link color
G: Third level first letter link color
H: Color Hover Dropdown Title (for vertical menu)
I: Color Hover first level link
J: Color Hover first level icons
K: Color Hover Second level link
L: Color Hover Third level link
M: Color Hover Third level border bottom
N: Hover Box Menu Horizontal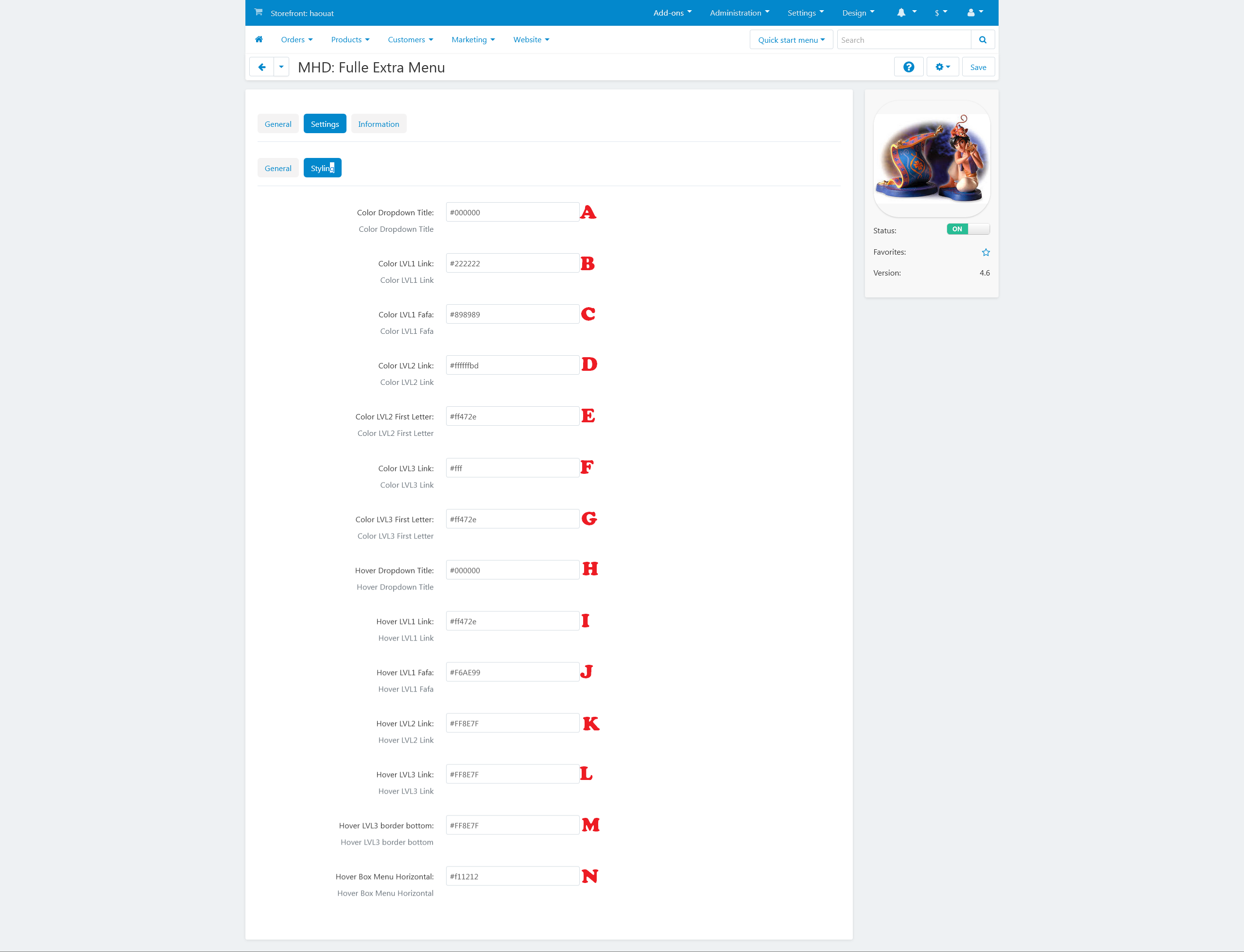 Add horizontal menu to storefront
first create new grid win calss ( top-menu-grid mhd-menu-hgrid)
then add new block :
Template : mhd Dropdown Horizontal
Wrapper: --
class : mhd-top-menu-horizontal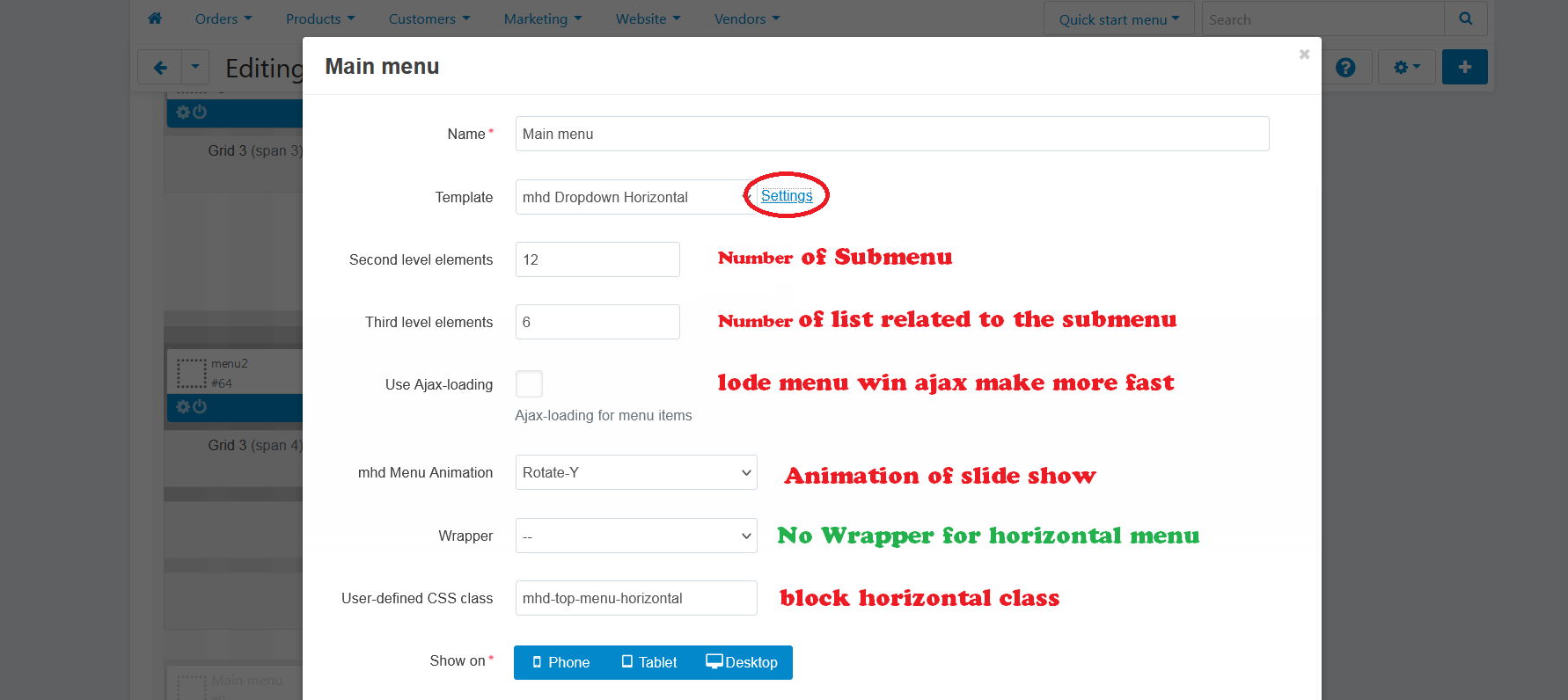 horizontal result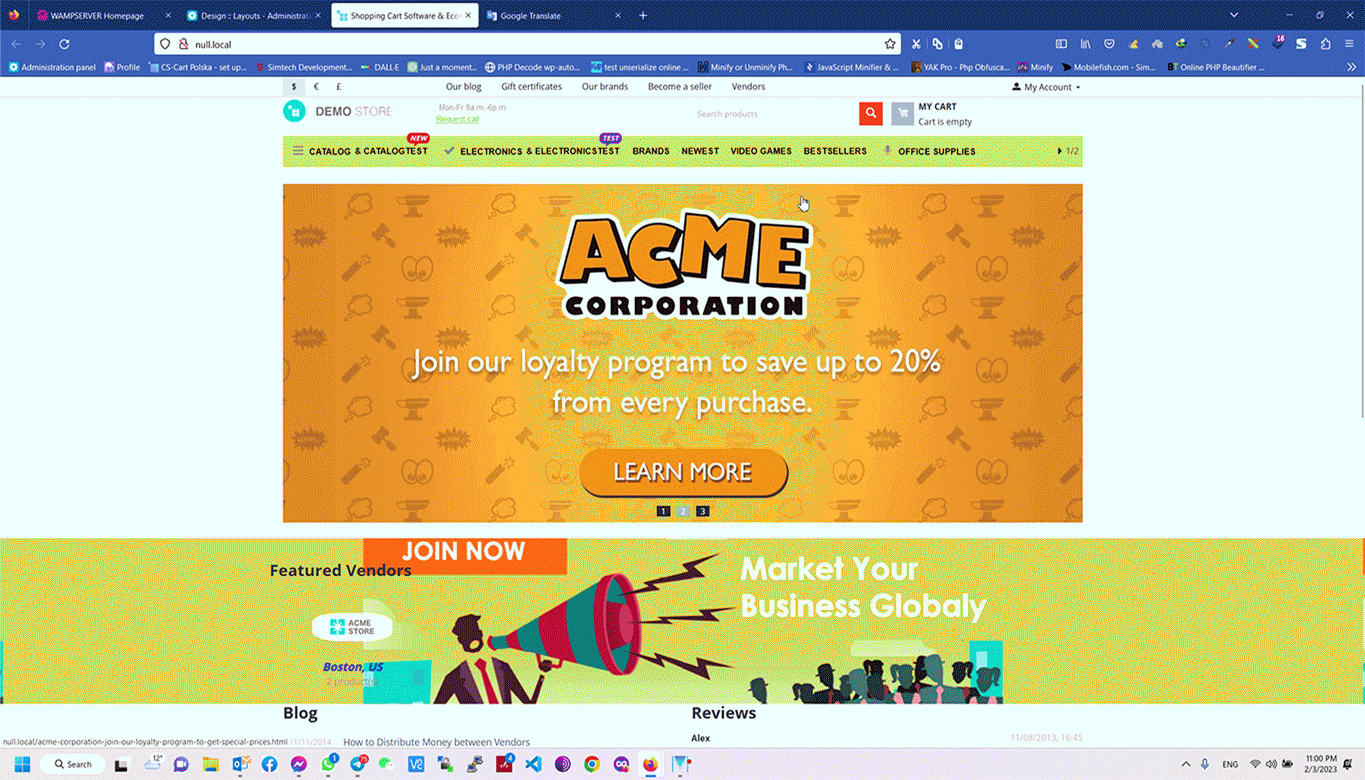 Add vertical menu to storefront
vertical menu grid calss (mhd-menu-grid)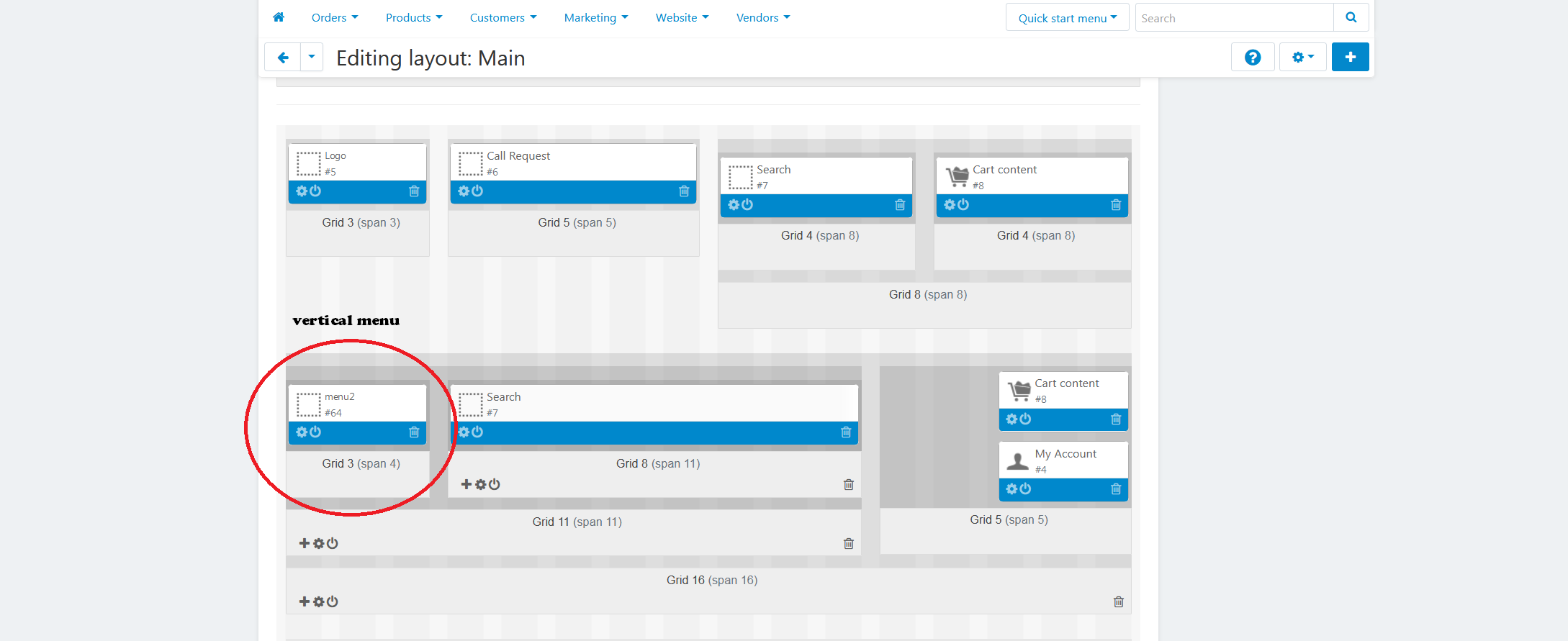 vertical menu block settings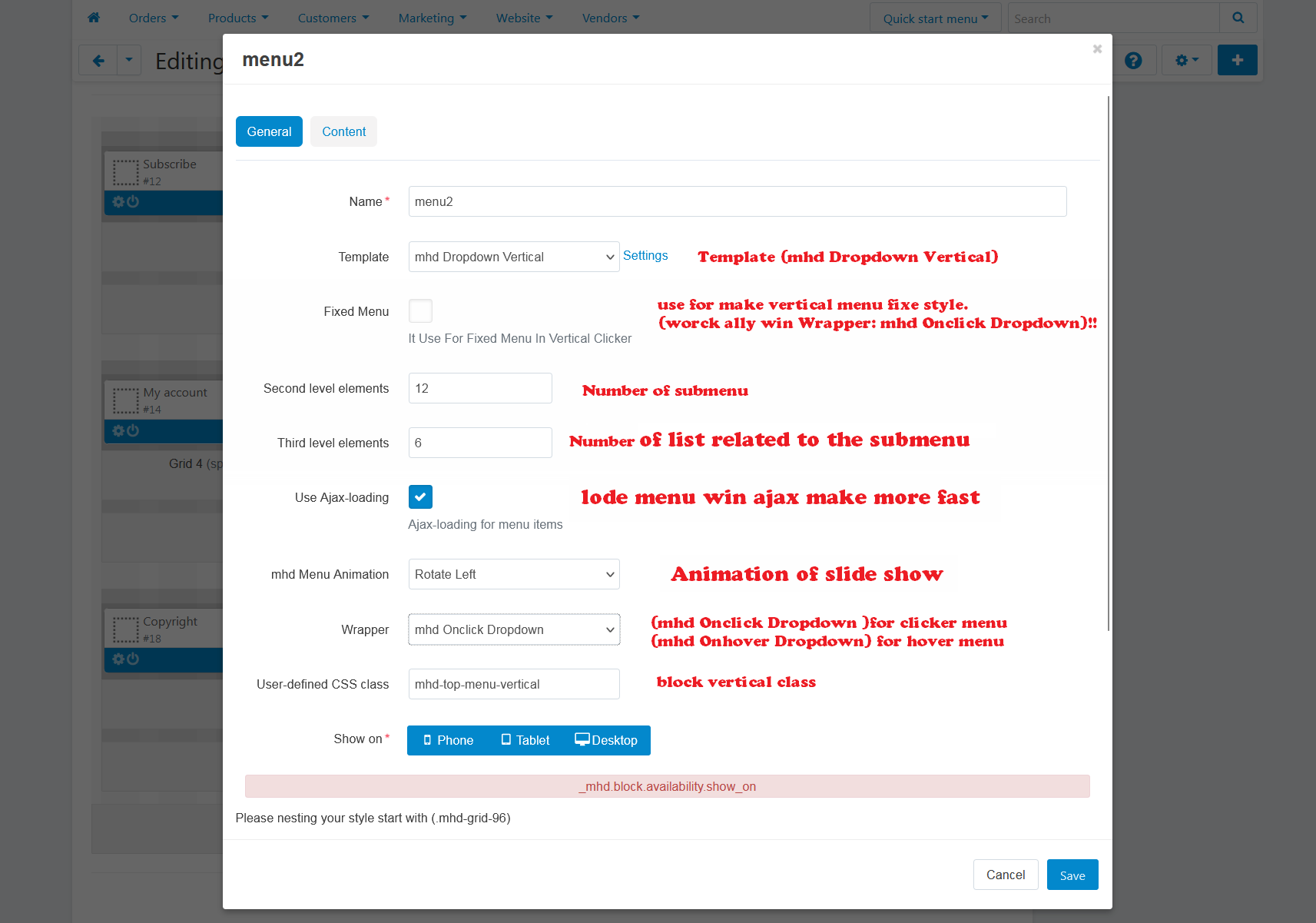 vertical result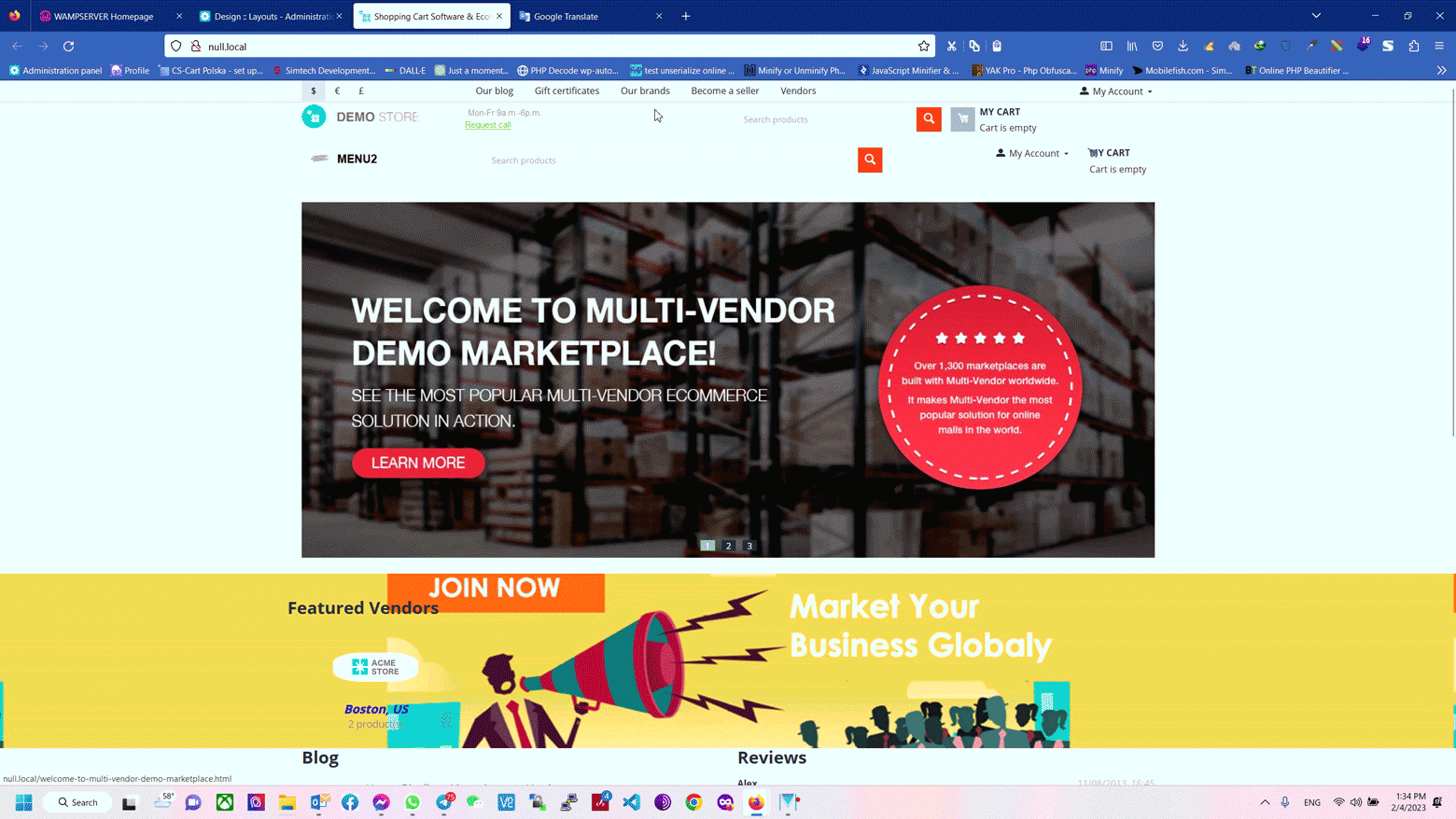 Menu
In the Administration panel, go to Design → Menus.
click Main menu for fill the menus.
general:
Name2: Type optional name of your item (e.g. New Item).
work only win (Root level)
URL: the URL of the page which will open when the link is clicked on (e.g.index.php?dispatch=categories.catalog).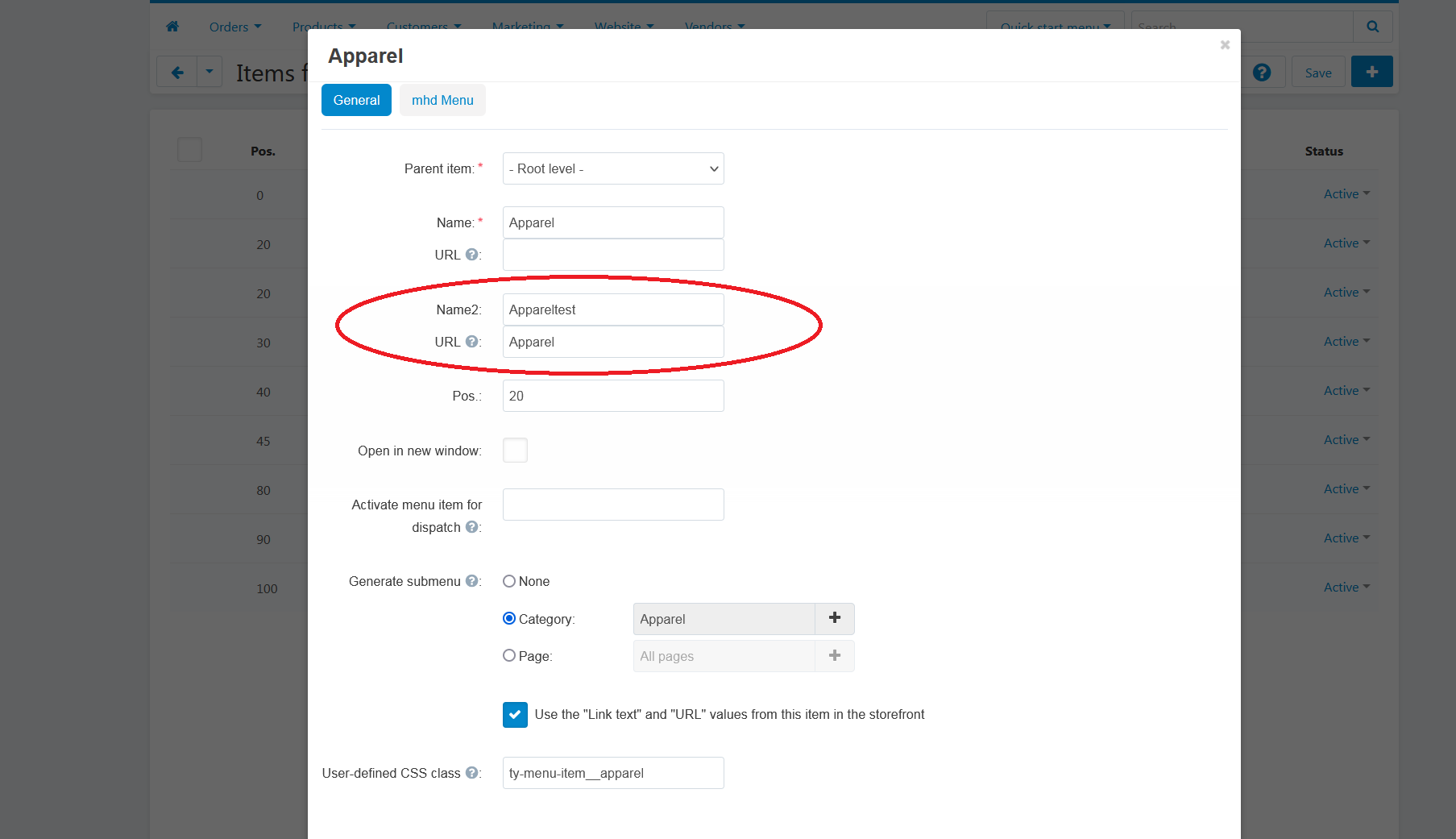 mhd Menu
icon: This option is available if add-ons (mhd icon-font-cs-cart) are available and working. Allow Branding: Allows branding associated with these categories.
Add Image: Add banner with link.
Use image as background: This option makes the image background of the slider.
Top right: Locates the image, if is banner.
Label: add label for main categories.
Label Color: Label Color.
Label Background Color: Label Background Color.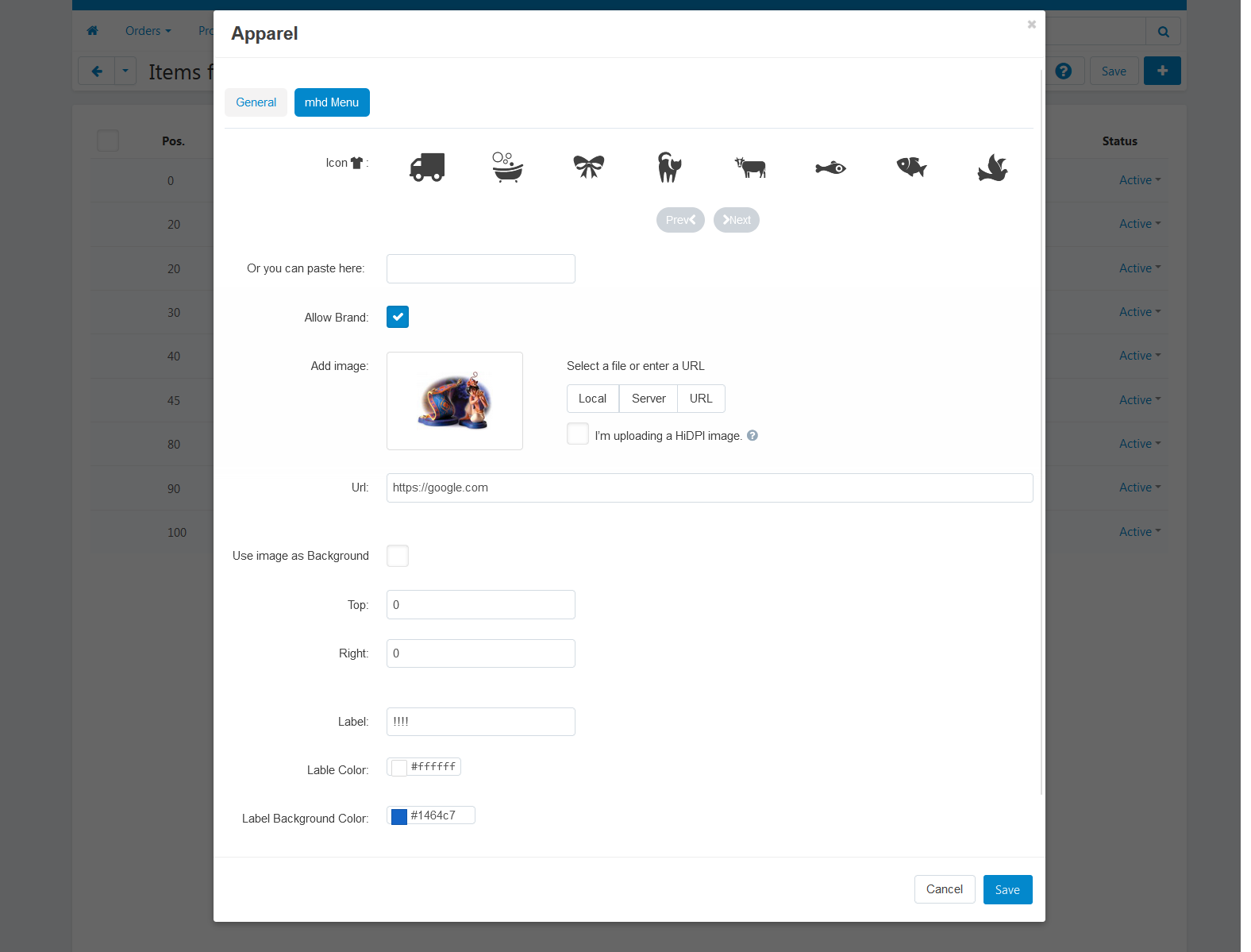 Note: Sliding the menu does not work unless there is an add-on(mhd_gird_extra-cs-cart)
cs cart versions :
CS-Cart

Multi-Vendor

CS-Cart Ultimate

Multi-Vendor Ultimate

Multi-Vendor PLUS
Compatible versions:
4.15.2

4.15.1.SP4

4.15.1.SP3

4.15.1.SP2

4.15.1.SP1

4.15.1

4.14.3

4.14.2.SP1

4.14.2

4.14.1.SP1

4.14.1

4.13.3

4.13.2.SP2

4.13.2.SP1

4.13.2

4.13.1

4.12.2

4.12.1

4.11.5

4.11.4

4.11.3

4.11.2

4.11.1

4.10.4.SP1

4.10.4

4.10.3

4.10.2

4.10.1